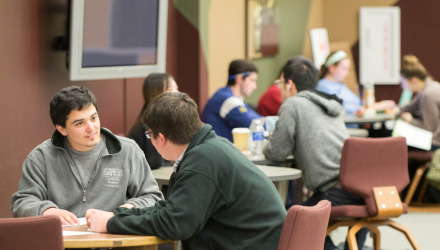 The University of Dayton libraries – consisting of Roesch Library, Marian Library, the International Marian Research Institute and University Archives and Special Collections – make up a favorite spot to study and hang out for UD students. OhioLINK recently spoke with Kathy Webb, the libraries' director, to learn more about what makes the University of Dayton library system unique.   
What are your top three points of pride in your library?
The libraries do community outreach in the form of public programs: exhibits, events, lectures, films and dialogues. To support our housing and residence life co-curricular learning program, the libraries sponsored 21 events in the 2016-17 academic year, with 670 student attendees overall. Most recently in our gallery space, we welcomed over 5,000 visitors to a living indoor garden which promoted the John Stokes and Mary's Gardens collection, housed in the Marian Library.
The Marian Library holds the world's largest collection of printed books about the Virgin Mary, including both circulating items and more than 12,000 rare books. The rare book collection includes several illuminated manuscripts and incunabula, or books printed before the year 1500. Archival collections include postcards, photographs, regalia, prints and posters. Exhibits of religious art attract thousands of visitors each year. The Marian Library also offers distinctive opportunities for University of Dayton students and faculty and routinely fields questions from U.S. and international media and researchers. Visiting scholars are welcome.
Last but not least, the libraries' finals-week programming for students has received wide acclaim among students and academic libraries. Themed based on cultural trends, university wide topics, or current library exhibits and programs, finals week activities include, among other things, snacks, therapy dogs, chair massages, free coffee and tea, and study breaks ranging from coloring pages to late-night dance parties. Students vie on social media for a chance to win their own study room key for finals week, and university alumni send in well-wishing "finals friends" notes, which are posted around the library.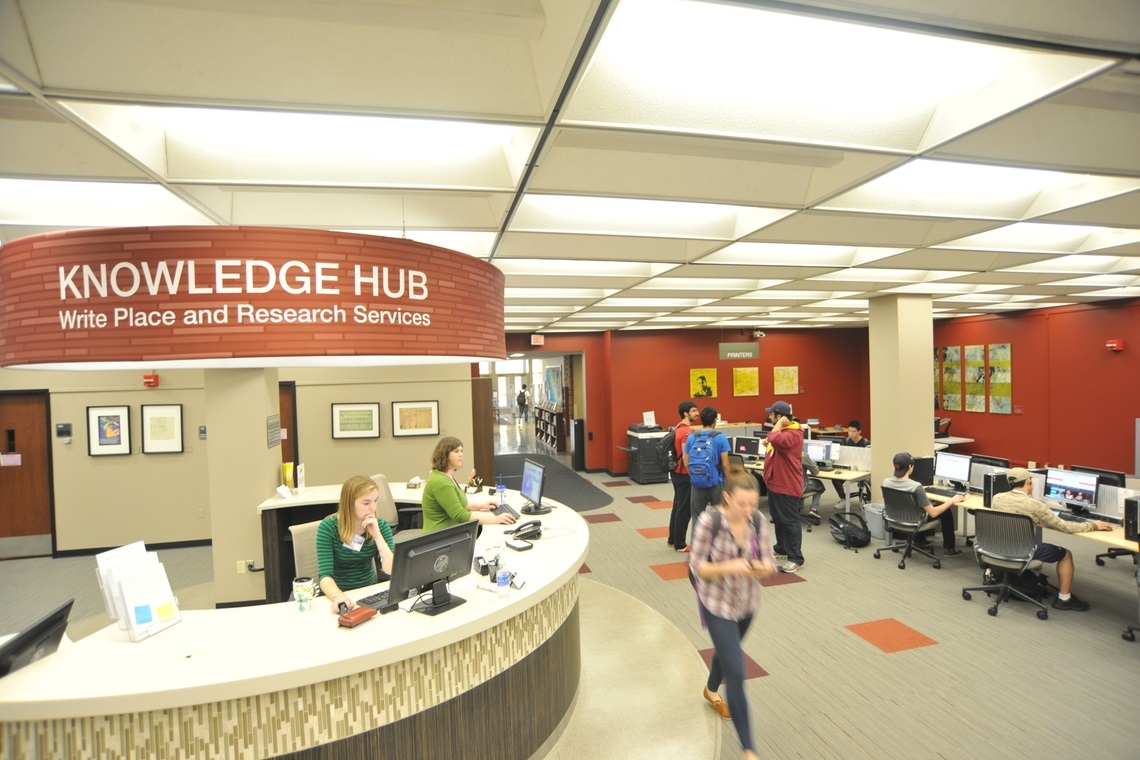 What's the most popular spot in your library for students and patrons?
Renovated in 2014, the first floor is the most popular spot in Roesch Library. It is home to the Knowledge Hub, a one-stop shop for research and writing support from librarians and peer writing consultants as well as technology help from IT specialists. Students and patrons enjoy flexible study and collaboration spaces, tech-enabled team tables and our bright and open teaching space, the Collab. The first floor also features a supplies vending machine, movable whiteboards, computers and printers.
How long have you been a member of OhioLINK?
University of Dayton is a founding member of OhioLINK.