Whatever resources Kent State Stark students are looking for, the Stark library is likely to have it. Access to resources and services is something the library prides itself in, along with adequately educating students on how to find the exact resources they need.
OhioLINK talked with Rob Kairis, the director of Kent State Stark's Library, to find out more about what makes this library one-of-a-kind.
What are three things you have the most pride in at your library?
1. Our library instructional efforts. We estimate that we provide information literacy instruction in a classroom setting (our teaching area) to approximately half of the students enrolled each year (our enrollment is about 5,000). Our primary mission is to teach our students effective skills for finding quality information. OhioLINK resources play a major role in our instructional efforts.
2. Efforts to address student plagiarism. For 12 years, our library has provided education to incoming students regarding what constitutes plagiarism and how to avoid doing it. In addition, our library established "Plagiarism School" as a way to help students who commit less-egregious, unintentional acts of plagiarism be reeducated about plagiarism and help them succeed and complete their degree with a better understanding of academic honesty. These efforts have resulted in university-wide policy changes and implementation of these initiatives on all Kent State campuses.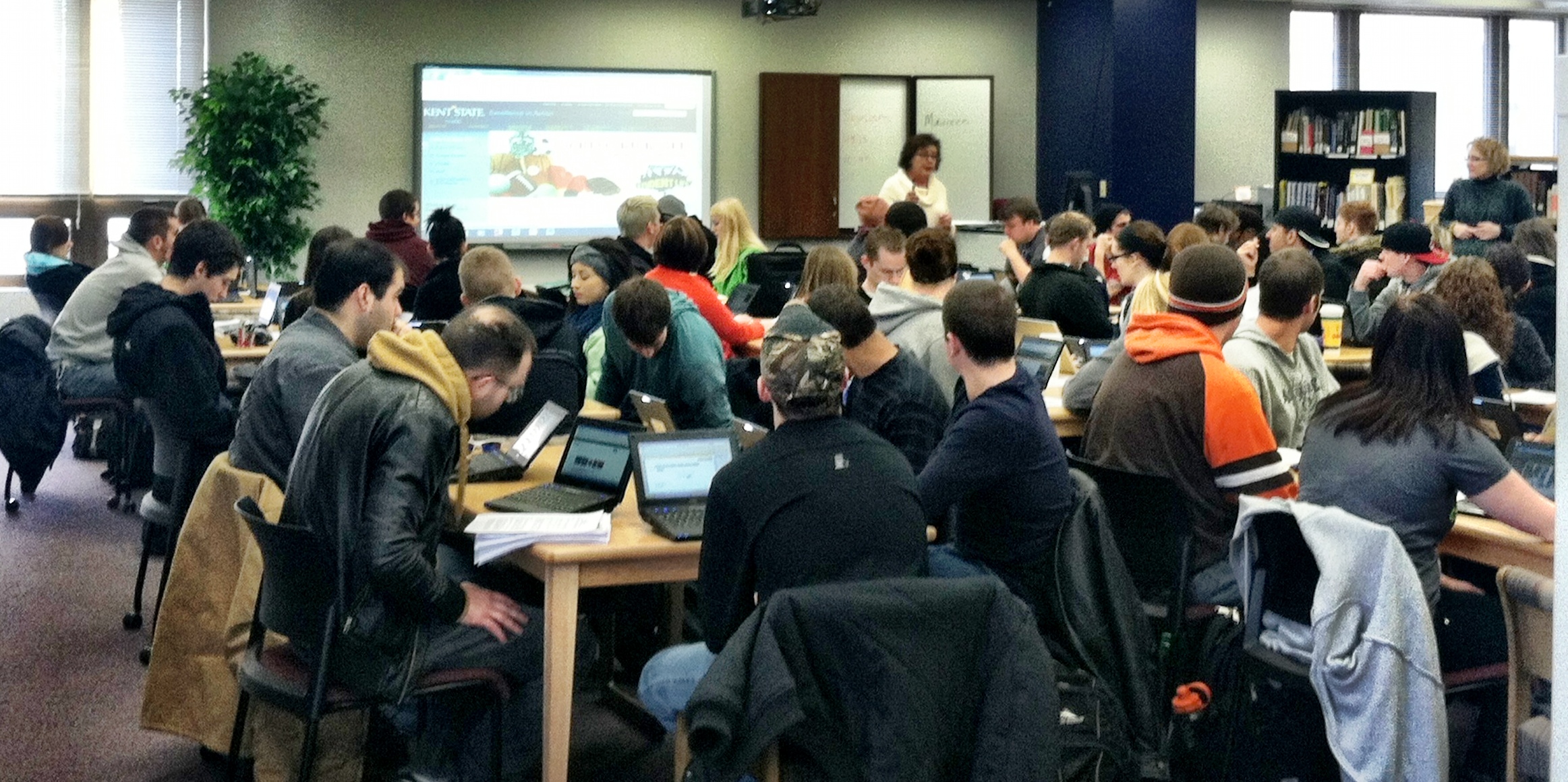 3. Overall our library staff has a "can do" attitude. I informally refer to our library as the "Library of Yes" in that we are ready and willing to take on initiatives to benefit our campus, even if they stretch our resources and go beyond our primary mission. Examples include maintaining and lending equipment (digital camcorders, iPads, laptops, etc.), managing and delivering netbook and iPad carts across campus so that any classroom can be used as an electronic classroom, curating and displaying student artwork and more recently, providing specialty printing services (3D scanning and printing and poster printing).
What's the most popular spot in your library for students and patrons?
Our teaching area gets the most use throughout the year. For independent study, our second floor quiet area and group study rooms are popular.
How long have you been a member of OhioLINK?
Kent State University, including the Stark Campus, is a founding member of OhioLINK.