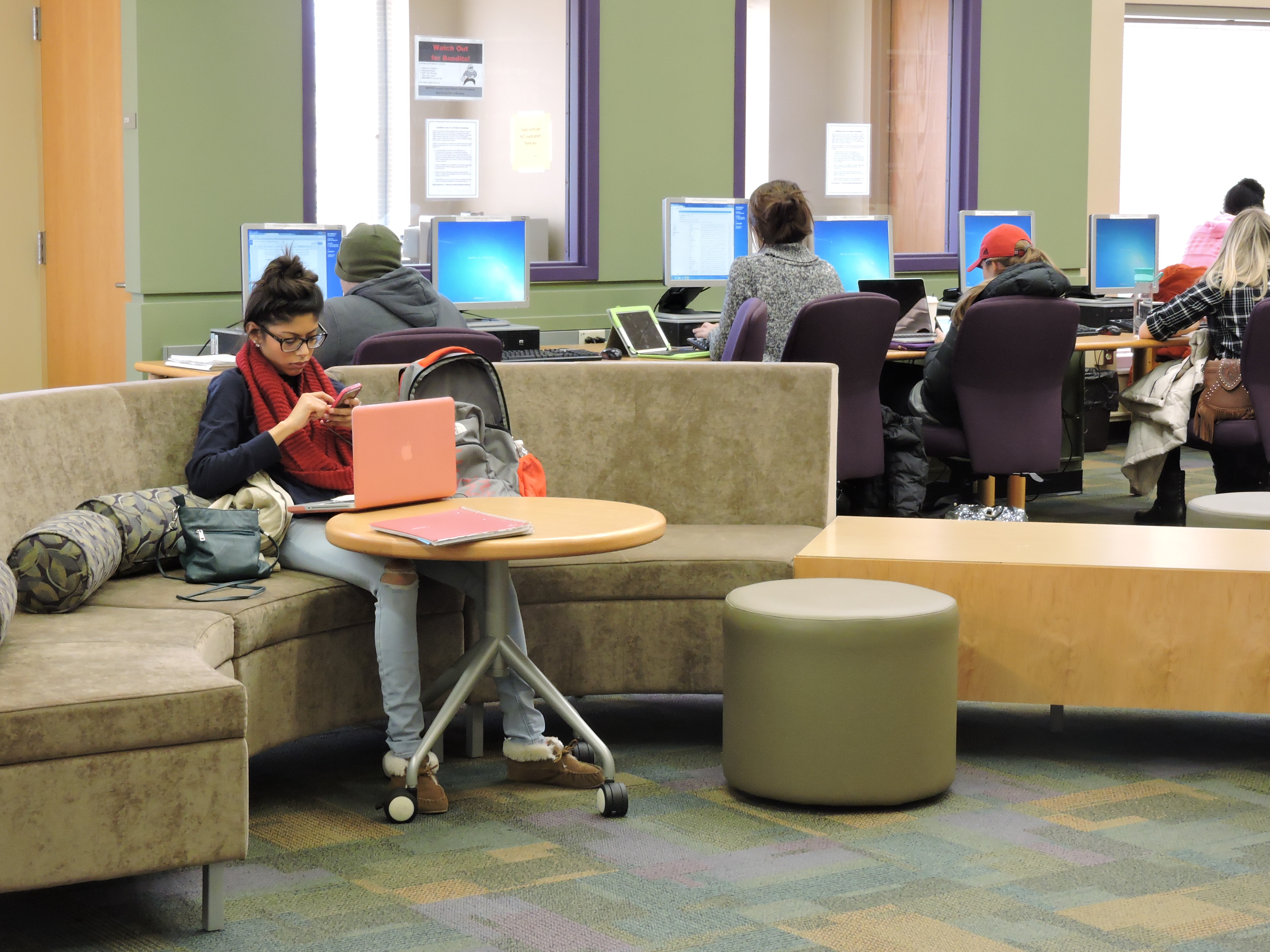 Rentschler Library is located on the second floor of Schwarm Hall at Miami University Hamilton. Between its close relationship with students, its partnerships with various academic departments and programs,  and its great study spots, Rentschler Library is a focal point on campus.
OhioLINK recently spoke with Krista McDonald, the director of Rentschler Library, to learn more about what makes the library special.
What are your top three points of pride in your library?
1. Relationships with students. Because we are a (smaller) regional campus library, we are able to get to know our students in a way that often is not possible at larger institutions. We have a diverse student population in terms of race, socioeconomic status, and age. As such, our students' needs, life situations, and learning styles are also diverse. We strive to have a positive impact on the academic success of each student we encounter by taking the time to figure out how best to serve each one. Since many of them become frequent users of the library, we get to enjoy the reward of watching them succeed at assignments, pass tough classes, and eventually graduate. We are proud of them for completing their degrees and take pride in knowing that we played a role in their success.
2. Partnerships. We will work with anyone to improve the academic success of our students, to enrich their college experience through cultural programming, or to promote lifelong learning in our community. We have collaborated with faculty and other departments to host programming on campus. The library is housing a TRiO grant program run by our Office of Learning Assistance to improve outcomes for academically at-risk students. Library staff members serve on various campus committees to ensure that campus academic goals are met. We work with the local public library to host an annual poetry reading, and with the K-12 schools to teach students how to conduct background research for their science fair projects. Want to work together on a project? Call us!
3. Our space. Over the past 10 years, our library has undergone a physical transformation and has become one of the most popular places on campus. We have focused on observed student needs and added computers, purchased all new seating, added 60 electrical outlets so that students have a place to charge up on campus, and have made the library a warmer and more inviting place for our users.
What's the most popular spot in your library for students and patrons?
Any place where they can work in groups, but especially our group study rooms.
How long have you been a member of OhioLINK?
Miami University and its regional campuses were founding members of the OhioLINK consortium.
For more information on Miami University Hamilton's Rentschler Library: