The Roberta A. Smith University Library is a recent addition to the Muskingum University campus. Opened in 2016, the library is a state-of-the-art research center that is also a Federal Depository Library for U.S. government documents and the new home to what had been the Muskingum University Library. Inspired by her mother Margaret's lifelong appreciation for the education she received at Muskingum, Roberta A. Smith paid tribute to her parents with her commitment to the library's creation.
OhioLINK recently talked with Smith University Library director Sheila Ellenberger to discuss what makes the library special.
What are your top three points of pride in your library?
Instruction and outreach opportunities – We provide workshops that offer information to help students with citations, developing research questions, avoiding plagiarism, using the databases, etc. more effectively and efficiently. We meet with every class of entering students in their first-year seminar classes, and do the same with transfer students. These sessions raise students' awareness of library services available to them. We also provide specific research instruction within classes. Our three-credit-hour research methods class meets a requirement of the General Education curriculum in the category of Communicating in the Digital World. The Thompson Library Science Classroom is a 25-station computer lab and serves a dedicated classroom for librarians to teach. Students have many opportunities to learn and receive help with their research needs.
 
Reference – Our new library has three reference desks. Librarians are available to assist with reference and research questions throughout the day, evenings, and weekends.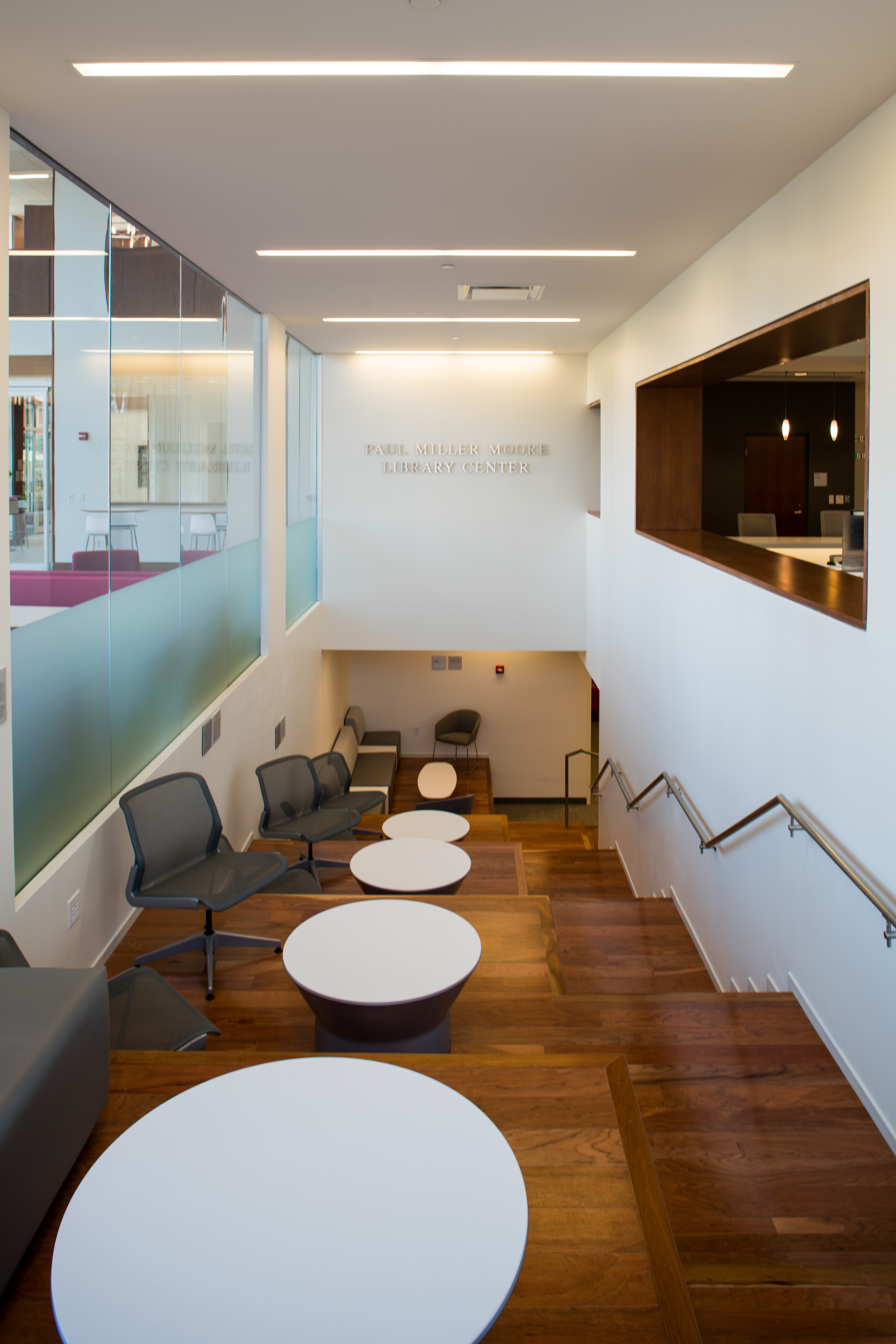 Five Collaboration Stations provide screen-sharing capabilities by the use of Solstice Collaboration software and large screens. The Solstice Collaboration Systems are also available in the Adams Seminar Room, the Anderson Group Study Room, and the Walker Group Study Room. At the collaboration stations and rooms, students work on group projects and share their screen from their tablet, smartphone, or laptop.
What's the most popular spot in your library for students and patrons?
The "Study Steps" and the McCalmont Colloquium Center are probably the most popular.
Our library provides many comfortable study spaces. All the seating in the library has electric and USB ports so students can charge devices as they work or study. We have quiet spaces, spaces for more collaborative work, and study rooms that can be reserved for group use.
The Roberta A. Smith University Library is quickly becoming a center of campus life for students and faculty! Our new building opened in January 2016.
How long have you been a member of OhioLINK?
We joined Ohio Private Academic Libraries (OPAL) in August 1998 and OhioLINK in January 1999.
For more information about Muskingum University's Roberta A. Smith University Library: