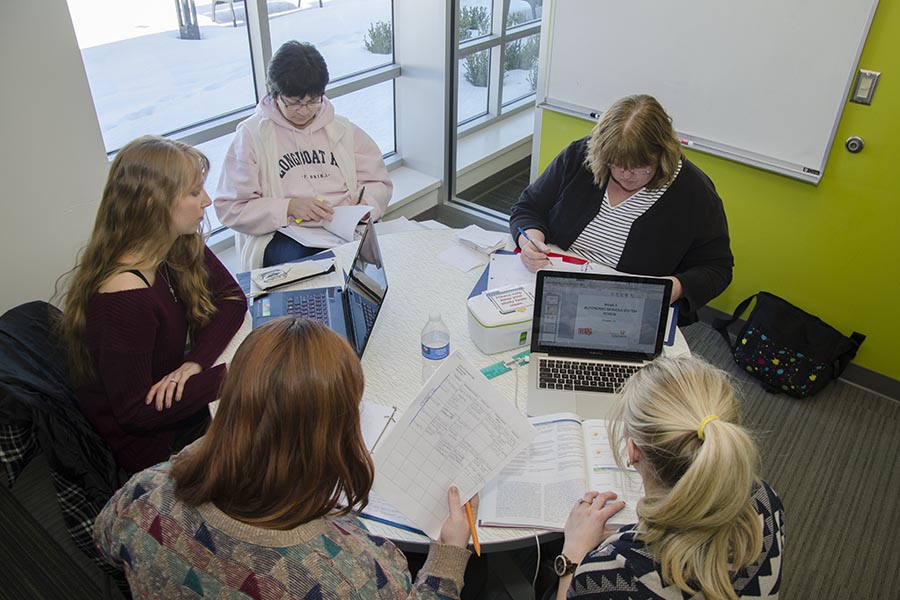 The University of Cincinnati Blue Ash College Library is home to a variety of spaces for students to collaborate, study and research. The library space, being rather new, has become the most favored place on campus.
OhioLINK recently spoke to Heather Maloney, the director of UC Blue Ash College Library, to learn more about what services the library provides. 
What are your top three points of pride in your library?

   

 

People. We pride ourselves in the individual attention we give to students through teaching, consultations and library services support.
Collaboration. We work closely with faculty and staff across the college to provide the best teaching and support for UC Blue Ash students.
Space. Our relatively new library space is the most popular place on campus in addition to the new community commons just across the hall. With an abundance of light, color and a variety of study spaces including 8 multimedia equipped study rooms, the design takes full advantage of a relatively small space. Now if we can just get one or two more spaces just like it.

What is the most popular spot in your library for patrons?

That's a difficult question and if you asked students you would likely get different answers -- some really love the quiet study carrels in the back of the library, some consistently schedule a study room for collaborative or individual study, some love our computer workstations that allow for one or multiple students to work at one station, some always reserve a spot at the larger carrels right next to the windows, and others will come in and just relax, chat with friends or study in our lounge seating at the front of the library. If forced to choose one spot, I would say the lounge seating is our most popular spot, which can be both a blessing and a curse #shushing.

How long have you been a member of OhioLINK?

As a regional campus of the University of Cincinnati, an OhioLINK charter institution, we have been a member of OhioLINK from the beginning.
If you want to learn more about University of Cincinnati Blue Ash College Library: