Meghan Frazer, OhioLINK's manager of technology integration, recently won the Academic Library Association of Ohio's (ALAO) TEDSIG Teddy Award. This prestigious award was announced during the ALAO Conference in October.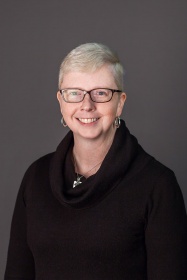 "Meghan has been an important player in both creating Ohio's academic library digital and technology innovations as detailed in the nomination letters, and in making sure they are noticed via her national presentations and activities," said OhioLINK Executive Director Gwen Evans. "For service to ALAO member institutions, I can think of no better honoree."
The Teddy is awarded to an individual who has made significant contributions to the technical, electronic, or digital services fields. These contributions may include service, innovative practices, presentations, publications, and leadership in the profession.
"The first professional development event I attended as a librarian was an ALAO event organized by TEDSIG, and over the years since, I have learned so much from the librarians in this group," Frazer said. "I love working with this community, and to be recognized for my work by TEDSIG and ALAO is a great honor."
Frazer was nominated for her outstanding service by Evans; John Millard, assistant dean of Miami University Libraries; and Jane Wildermuth, head of digital initiatives and repository services at Wright State University.
ALAO strives to advance academic library services in Ohio by identifying, studying, and promoting the interests of academic librarianship and the personnel of academic libraries, and to provide opportunities for education and growth for library personnel.  
Established in 1992, the Ohio Library and Information Network (OhioLINK) is Ohio's statewide academic library consortium and serves more than 600,000 end users. A member of the Ohio Technology Consortium of the Ohio Department of Higher Education, OhioLINK provides a competitive advantage for Ohio's higher education community by cooperatively and cost-effectively acquiring, providing access to, and preserving an expanding array of print and digital resources, and by centrally hosting digital content. Together, OhioLINK and its member libraries provide users access to nearly 50 million books and other library materials, more than 100 electronic research databases, more than 81,000 e-books, thousands of images and videos, and millions of electronic journal articles.