Brooklyn Ludlow is one of two student interns currently working at OhioLINK. As a third-year student at The Ohio State University, she has two rare and vastly different passions: Brooklyn is earning a major in jazz composition and a minor in computer information sciences.
Before coming to OSU, Brooklyn and a friend had their own business doing live sound setup for bands and events. They used their own equipment and worked as sound and lighting engineers and DJs.
Brooklyn recently talked with OhioLINK about her student position, her goals for after graduation and her experience playing the keyboard in her band.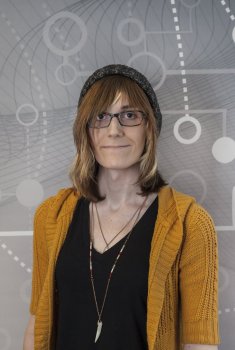 What are your responsibilities as a student intern at OhioLINK?
I am Joanna Voss' assistant. I do all kinds of miscellaneous things, one of which is figuring out processes for cleaning up and organizing data. When Joanna is working on analysis projects, she usually has me collect data and reports from vendors or sources online. One ongoing project I am responsible for is writing a user guide for OpenRefine, a program that we use frequently for cleaning-up data. The guide will document the really specific processes we use in dealing with library data.
How long have you been with OhioLINK?
I've been with OhioLINK for a little over a year.
What's your favorite part of your job?
It's a really nice place to work, and honestly, the staff makes really delicious food. That's probably my favorite part, but I also like how everyone here is really nice and laid-back.
Why did you decide to come to OhioLINK?
At the time I was looking for a job that I could have as a student, so I sent my resume out to a bunch of places around campus. Joanna called me into an interview, and the position seemed to match well with my computer science experience, so they offered me a job.
What do you plan to do after you graduate?
I don't really have a plan yet for after graduation. I'm expecting my jazz composition degree to not lead to a career. Hopefully it can, but I'm in computer information sciences as a back-up plan. I think I would like to work in the technology industry and eventually I'd like to work in video game sound design or film score composition, which would allow me to utilize both of my degrees.
What instruments do you play?
Drums, guitar and piano. I also perform with a whole host of non-traditional electronic and digital instruments like pads, feedback loops, synths, noise generators, etc.
Can you tell me about your band?
I play the keyboard in a band called the Bascinets. We play folky indie-rock and perform at small venues all over Columbus. I've been part of it for about a year-and-a-half. We have a self-produced demo on Bandcamp (thebascinets.bandcamp.com), and we are getting ready to start recording a full album. We have played at places like Big Room Bar, Victory's, Double Happiness and Kafe Kerouac. One fun place to play was the House with No Name, which is a punk/D.I.Y. house that hosts shows in their basement. We are also planning to go on a short tour in early May, so that should be a lot of fun.
What do you like to do in your free time?
I like to focus on music, and I especially like to drum. I usually play three hours a day over the school week and more during school breaks. Currently, I'm working on a solo album of modern-classical mixed with folk and drone music. I also just started a blog for music analysis. I've been trying to analyze at least one tune per week, focusing on genres like rock, folk and pop that don't normally get a lot of attention from music theorists. Aside from music, I like to take online open courses, go to science lectures and spend time with my girlfriend.