Anita Cook, a long-term employee of OhioLINK, is currently serving a half-time position somewhere very different from Ohio – in sunny Las Vegas, Nevada.
Anita comes from a very extensive background in libraries after having 37 years of experience, 22 of which were at OhioLINK as the full time Coordinator of OhioLINK Catalogs. She has a Master of Arts in Librarianship from the University of Denver and a Master of Arts in Information Systems from the University of Nebraska.
Anita recently talked to OhioLINK about her time spent working in Alaska, her early years working at OhioLINK and moving to Las Vegas.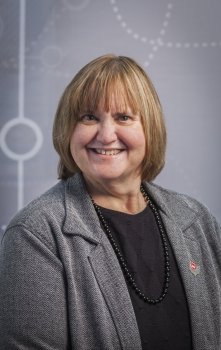 How long have you been with OhioLINK? 
Twenty-four years as of March 1.
What are your responsibilities as OhioLINK's part-time Librarian, Shared Resources and ILS? 
I serve as the primary liaison for Courier Services and the five regional depositories.  I also assist with managing the PCIRC processes for OhioLINK and backup Theda Schwing on system administration duties for OhioLINK's three Innovative Interfaces Inc. systems.  Besides that, I do data analysis and report writing as regards to the Central Catalog, PCIRC, the Courier system and the regional depositories.
What led you to a profession in library services? 
When I was graduating from high school, I met with a career counselor.  She explored my aptitudes and interests, and suggested a career that involved computers and libraries.  So, I followed that path.
What's something about yourself that might surprise people?
I spent three months following library school living on the Arctic Ocean in Point Barrow, Alaska managing a small research library for the Naval Arctic Research Laboratory.  I experienced 24 hour daylight, snow on the Fourth of July, and polar bears, whales, and walruses.
Do you have any goals for yourself this year?
With OhioLINK I would like to learn more about the Sierra system from Innovative as we move to using those products.  Personally, I just started a new exercise routine.  So, I'm hoping to make that a regular occurrence this year.
What accomplishment are you most proud of?
I'm most proud of my years at OhioLINK, especially the early years where we were building and implementing the Central Catalog and its accompanying PCIRC system. I'm also proud of my education and career choices that have led to 37 years in the library field.
Why did you decide to move to Las Vegas?
I officially retired from my full-time position at OhioLINK in October of 2014.  My goal was to move someplace warmer and sunnier with a mild winter.  My brother has lived in the Las Vegas area for 15 years and I had been here numerous times to visit and really liked the area. 
What's your favorite thing to do in Las Vegas?
Las Vegas is the entertainment capital of the world.  The choices for shows are mind-boggling.  Most popular entertainers end up performing here, so I get to see people and shows that I wouldn't have been able to someplace else.
What do you like to do in your free time? 
I spend time on my IPAD, reading or playing games, watching movies and TV, shopping way too much and now going to the Y to exercise.