Gwen Evans, OhioLINK's executive director, certainly has an impressive (and extensive) background of knowledge, which ranges from ancient and medieval history to cultural anthropology.
Evans previously served as the director of special projects at the Ohio Technology Consortium (OH-TECH). She came to OH-TECH from her position as associate professor and coordinator of Library Information and Emerging Technology at Bowling Green State University. 
Gwen recently sat down with OhioLINK to discuss her time spent in Indonesia, the changes she has seen in library services and her experience riding in the 2015 Pelotonia.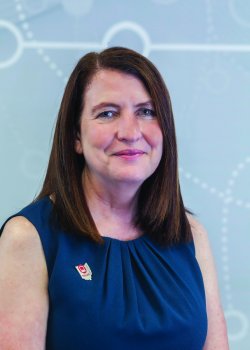 Can you give a short description of your scholarly education?
It won't be short! I attended the University of California, Davis as an undergraduate; I entered as a physics major and exited as a history major with a concentration in ancient and medieval history. From there, I went to graduate school at Yale in Near Eastern Languages and Literatures, intending to be an Assyriologist. I was (still am) interested in religious ritual and realized that I would prefer to study living cultures rather than long-dead ones, so I switched to cultural anthropology as a discipline and transferred to the University of Chicago's Ph.D. program. In 2002, I completed a master's degree in library and information science from the University of Illinois Urbana Champaign.
You've also spent two years in Indonesia. Can you tell me about your experience?
I spent two years on the island of Flores, Indonesia doing ethnographic fieldwork - studying local and global Catholicism. The world's largest Roman Catholic seminary is on Flores, at Ledalero. I lived in the seminary for two years, with some months spent in the village at Sikka and in the town of Maumere. While I was there, I built the seminary an online library catalog and circulation module using Paradox and a programming language called ObjectPal.
What are your responsibilities as OhioLINK's executive director?
I make sure that our programs and services are aligned with the strategic needs of our member libraries as they serve the students, faculty and researchers at their institutions. I also make sure that our programs meet the strategic initiatives of the Department of Higher Education. I manage OhioLINK's operating and capital budgets which total more than $12 million per year. I do a lot of education and outreach to stakeholders to demonstrate our value and impact to Ohio higher education. OhioLINK is effective because of the cooperation among all of the member libraries, and one of the most important parts of my job is to provide the critical support that makes this cooperation possible.
What's your favorite part of the job?
Negotiating. I love a good tough negotiation.  
What led you to a profession in library services?
When I came back from my fieldwork, my husband got a tenure-track job at Bowling Green State University. I got a full time job in the library there, and when I realized that I wasn't going to finish my dissertation, I applied to the online graduate library science program at University of Illinois and got my MLS in LEEP cohort 5.0. At the time, online programs were pretty experimental, and I loved the combination of technology and library services. Libraries were starting a major shift into digital and online information provision, and I became really interested in the directions that libraries were moving.
Have any changes in library services surprised you since you began your career?
I remain amazed and delighted that you can carry a full library on a small electronic device wherever you go and get books on-demand either from your library or from online booksellers. My constant fear as a reader was running out of something to read. In Indonesia I had a precious stockpile of Dickens, Trollope, Balzac and any other author that wrote very, very long novels. I still have a passionate gratitude to author Vikram Seth, because A Suitable Boy is more than 1000 pages long and it's a highly re-readable novel. Now, I don't fear running out of novels, but I do fear running out of battery power.
This year you were the lead rider in the 25-mile peloton for OhioLINK's Pelotonia 2015 team. What was that experience like?
It was very emotional. We had a staff member diagnosed with cancer during the run-up to Pelotonia, and that made everything about Pelotonia even more personal for OhioLINK.  So the ride itself was punctuated by the usual "This is fun/I'm getting tired/PBJ break!/look out for that wobbly rider" with the emotions cued by the survivors and their families that line the route and thoughts about my own friends and family who have been affected by cancer. I also wouldn't say I was the lead rider – my teammates and co-riders were more experienced than I was and did a great job of keeping me collision-free and hydrated.
What was OhioLINK's goal for Pelotonia 2015?
There's a whole blog post about it at https://www.oh-tech.org/blog/pelotonia_2015. OhioLINK thought this was an appropriate outreach activity to remind people that the materials libraries provide to researchers end up effecting real differences in clinics, hospitals and doctor's offices, in local and national policy, in agriculture and industry. Research and the system of scholarly communications that academic libraries support have a direct impact on your life and mine. Our goal is to eventually have an OhioLINK team that has a rider from each member institution.
What are your goals for the upcoming year (personal or professional)?
In 2016 I'm hoping to ride the 100-mile leg of Pelotonia, which is both a personal and professional goal.
What's your favorite thing to do when you're not working?
I really enjoy taking walks either alone or with my husband. I enjoy walks in the woods or in parks but also walking through different neighborhoods. We've really enjoyed walking around Columbus, and the new riverfront downtown is a really nice stroll.
What's one thing you do better than anyone else you know?
I am an enormously fast reader without being a speed reader – I don't skim, but I can take in large chunks of text at a time.