Nichole Frederick, Systems Librarian, is the most recent addition to the OhioLINK team. Nichole received her degree from Ohio State, and her Masters of Library Information Sciences from Kent State. Before joining OhioLINK, Nichole worked for the Ohio State University libraries.
OhioLINK recently spoke with Nichole about her professional responsibilities as well as her favorite books, her many hobbies and how she enjoys spending her free time.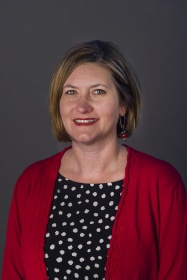 Where did you grow up?
I was born in Kettering but moved to Columbus when I was 8 years old. I grew up in Dublin.
In what subjects did you receive your degrees?
I have a BA in English with a focus on English Literature and Film Studies from Ohio State University and an MLIS from Kent State University.
What are your duties here at OhioLINK?
My main role is to support OhioLINK's Coordinator of Catalogs with the management of OhioLINK's catalogs. This includes the Ohio Depository, Serials and Central library catalogs.
What drew you to OhioLINK?
I previously worked in an academic library for four years (Ohio State, an OhioLINK charter member), so I was excited about the opportunity to be a part of the OhioLINK staff working with academic libraries across the state. The thought of supporting more than 100 libraries in Ohio appealed to me.
What is your all-time favorite book?
I have so many, but I would have to say a few of my all-time favorites, which are true classics are One Hundred Years of Solitude by Gabriel Garcia Marquez, The Master and Margarita by Mikhail Bulgakov and A Confederacy of Dunces, John Kennedy Toole.
What do you like to do in your free time?
I enjoy learning new creative hobbies and crafts. Years ago, I decided I would attempt to learn something new every year, including developing film and printing photographs, pottery, knitting, painting and winemaking. I also like to travel, cook, read and take my dog to the park. In the summers, I spend many weekends at my family's lake house in Lake Cumberland in Kentucky.
What is something that people might be surprised to learn about you?
I'm working on completing an Enology certification – the science and study of winemaking – through a university partnership program called VESTA, funded by the National Science Foundation. Also, I am the Event Coordinator for a local nonprofit, SNAP (Spay Neuter Assistance Program of Central Ohio). We provide financial assistance to people in Central Ohio that cannot afford to spay/neuter their pets. Our mission is to reduce the number of unwanted cats and dogs in the community and to educate people on the benefits of spaying and neutering.