Amy Pawlowski is OhioLINK's deputy director and eResources licensing coordinator, though she claims she likes to think of herself as OhioLINK's .exe file. Amy holds two degrees in music performance, which are a unique contrast to her master's degree in library information science from Kent State University.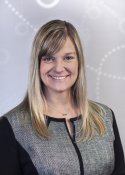 Amy came to OhioLINK from the Cleveland Public Library (CPL), where she was the web applications manager and oversaw projects and eResources for CPL and the CLEVNET consortium.
Amy recently talked with OhioLINK about her background in music performance, her love for sewing and her surprising interest in regency romance novels.
How long have you been with OhioLINK?
I just celebrated my two-year anniversary with OhioLINK.
What are your responsibilities as OhioLINK's Deputy Director and eResources Licensing Coordinator?
The majority of my time is spent negotiating and working on electronic resource contracts. A large part of that process involves working with OhioLINK staff and CIRM (our OhioLINK collection development committee) to appropriately analyze and assess current and potential resources. This is an important process as it ensures we are getting the resources that fill our member's needs as well as getting the best value.
I also oversee several staff members and the projects they are implementing; I like to think I'm Gwen Evan's .exe file. As the executive director she comes up with projects and ideas to further OhioLINK's mission, vision and values, and I make sure they're executed and implemented.
What led you to this profession?
Honestly, I never expected to be in library science, since my bachelor's degree is in music performance and my first master's is also in music. However, while I was a graduate student I had an assistantship in the performing arts library at the University of Hartford, and I fell in love with the whole aspect of the profession and decided it was something I wanted to pursue as a career.
What's something about yourself that might surprise people?
I consume regency romance novels like they are going out of style, which does not fit my personality whatsoever. I'm not a quiet and demure type person.
What do you enjoy doing in your free time? 
I started sewing about three years ago, and although I don't do it as often as I would like, I have collected three bins of material for future projects. I started sewing because I wanted to make outfits for my daughter who is 5, and the majority of what I've made thus far has been skirts and dresses for her.
What's your favorite thing to do in Columbus?
I really enjoy going to the zoo with my family. Also, I enjoy going to this great niche fabric store on High Street called Sew to Speak, which is the reason I have three bins of fabric sitting at home!
Do you have a role model? If so, who is it? 
My parents, no question. My mom stayed at home initially to raise my sister, my brother, and me. When I started school, she re-entered the workforce at a distributing and manufacturing company that produced custom wires and cables for anything from factory line assembly machines to computer servers. After working there a few years, she started a company with my father in the same sector. I'm really proud of my mom for successfully starting and running a business in a male dominated sector. My dad is also a role model because he fully supported my mother. Their support for each other, in both their work and family life was (and still is) unfailing. I want my daughter to look back at my husband and me and think the same of us.