Erin Kilkenny, OhioLINK's cataloging assistant, earned her undergraduate degree in art history & visual culture from Denison University and is currently working on a Master of Library and Information Science from Kent State University. Erin came to OhioLINK from Southwest Public Libraries, where she was an adult reference assistant.
Erin recently talked with OhioLINK about her goals for after graduation, her passion for dairy and her unexpected bookmark collection.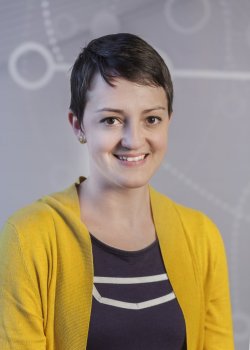 How long have you been with OhioLINK?
I've been with OhioLINK for three months – I was just hired in July!
What are your responsibilities as OhioLINK's cataloging assistant?
I assist my manager, Emily Flynn, in copy cataloging resources that OhioLINK purchases. I also assist in maintaining OhioLINK's catalog. Right now I'm working on a project to ensure accuracy and access to about 25,000 existing catalog records. Often older records need to be brought up to date to comply with current record standards. I also make sure OhioLINK users have access to all the materials we've purchased, and each resource has a record in the system.
You also work at Grandview Heights Public Library. What are your job responsibilities there? 
I catalog and process materials both internally and for other systems which contract out cataloging through Grandview Library. My favorite part of the job is being able to see all the materials that come through the library – my reading, watching and listening list is miles long.
What goals do you have after you graduate Kent State University with a MLIS? 
I'm interested in cataloging, metadata and digital librarianship. I've really been enjoying exploring computer science, especially where computer science and library science meet. I'd also love to start traveling outside the country. My art history degree specialized in East Asian studies, specifically China, and I'd love to visit China and Southeast Asia.
What's something about yourself that might surprise people?
I worked for Snowville Creamery, a small dairy outside Athens, Ohio. I never thought I'd become so passionate about dairy (or that I would sound like such a stereotypical Midwesterner). Snowville's milk and yogurt is the freshest and most delicious I've ever tasted, and the company is also dedicated to humane and sustainable practices.
What do you enjoy doing in your free time? 
I love walking with my dog, Cinnamon Sugar. We usually visit a coffee shop during our walk – I need a caffeine boost and she loves finding muffin crumbs on the floor. The coffee shop is great because she's normally pretty timid, but she loves the baristas and usually tries to get behind the counter to say hello.
What's your favorite thing to do in Columbus?
That's a tough question for me because I think Columbus is such a fun city. The food and drink scene is incredible. I love splurging at places like Kihachi and Basi and have been enjoying the ever-growing number of microbreweries.
Do you have something that you collect? 
I actually just framed part of a bookmark collection. I never intended to collect them, but I keep finding them in library books and acquiring them as gifts.