OhioLINK's Tasha Bryant-Willis strives for exceptional customer service
Coming from an extensive background in customer support, Tasha Bryant-Willis uses her skills as OhioLINK's Coordinator, Member Support.
Tasha received her Bachelor of Fine Arts in Retail Advertising from Columbus College of Art and Design. Before joining OhioLINK's staff she worked at the Office of the University Bursar at The Ohio State University.
OhioLINK recently talked to Tasha about her profession, her love of books, and surviving art school boot camp.
As a coordinator, member support, what are your job responsibilities?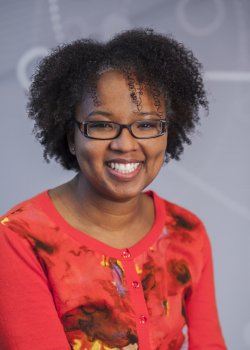 I serve as the primary contact for the OhioLINK members who need technical support for our services. I also assist my manager, Meghan Frazer, with meeting event logistics, virtual meeting support, internal communications and some social media.
What led you to this profession?
Art school taught me invaluable problem-solving skills.  I liken art school to boot camp.  If you can survive it, you can do almost anything you want because of your creative problem-solving skills. This job seemed particularly intriguing because of the opportunity to use both sides of my brain – there's just such a wide breadth of things to do: communications, public relations, marketing, customer service and support, social media, and meeting support. Plus, I thought my problem-solving background and customer support skills would be easily transferable.
What's the best part of your job?
I like the variety. I get to wear many hats and interact with a lot of different people. For instance, I handle the OhioLINK Weekly Update, write and prepare the Featured Library profiles, assist Meghan with any marketing pieces being developed for OhioLINK. I also provide WebEx support to our members during virtual meetings.
Tell me about a project or accomplishment that you consider to be the most significant in your career.
While not directly career related, I became involved with Project Mentor through a job I held a few years ago. I basically volunteered my lunch hour to mentor a middle-school aged child during the school year. From that program I transitioned to the community based Big Brothers Big Sisters organization. I have been matched with my current "little" for more than three years. It has been simultaneously one of the most difficult and rewarding things I've ever done.
What advice do you have for others that might be interested in library services?
I would say you should like helping people first and foremost, so hone your customer service skills. Be curious and willing to learn. Library services are all about having the ability to communicate information to people in a concise, understandable way. Even if you don't come from a library background, these skills are easily transferable to the library world.
What are some of your hobbies?
I like reading, cooking, and running, to name a few.  After completing several 5K and 10K events, I will be running my first half marathon this year. I've also signed up for the 2016 Detroit Free Press Marathon; running a full marathon is on my "bucket list".
I'll read almost anything, except romance. My favorite book is Beloved by Toni Morrison. It's a beautiful, haunting novel that I can read over and over and still discover something new.  I also collect cookbooks.  I'm especially fascinated by cookbooks that tell the story of food from a historical and cultural standpoint.  I learned to cook by watching my mother.  My "white whale" has always been her cornbread dressing.  I've worked years to perfect it, and it's good – just not as good as hers! 
What's something about yourself that might surprise people?
I'm older than I look. It is both a blessing and a curse!
What's something that you can do better than anyone else you know?
I have this "freakish" ability to guess weights and measures with frightening accuracy. It's a skill only useful when in the produce or bulk sections of a grocery store.
What's your favorite place to visit in Columbus and why?
The Book Loft in German Village. It's an amazingly magical place filled with all sorts of unique items, and of course lots and lots of books. I can spend hours browsing their labyrinth of rooms.