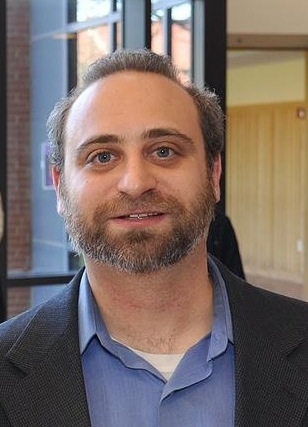 As a small institution, Oberlin College has much to gain from sharing. Jason Belitsky, professor of chemistry, knows this well, as he has shared both resources and research with his students. Belitsky imparts on his students the value of OhioLINK for journal articles and books. He assigns students an area to look up and guides them through using OhioLINK to find articles related to their assigned area of research.
"At Oberlin we have certainly a smaller library, so for a small school like us to be part of OhioLINK is great," he said. "We have access to all kinds of stuff that we wouldn't have otherwise."
Oberlin College is an undergraduate-only institution, and as such lacks what typically makes up a higher education research lab's workforce: graduate students.
That hasn't deterred Belitsky from bringing students into his research on the physical and chemical properties of eumelanin, the black-brown form of melanin – which is the pigment found in our hair, skin and eyes.
In fact, Belitsky received a National Science Foundation grant in 2013 specifically for research at undergraduate-only institutions. This has allowed him to turn his research lab into a teaching lab so his students get their hands on real research in their early chemistry courses. With an average of 60 students in each class, Belitsky has plenty of helping hands. 
"Undergrads do get to be involved in a lot of research because they are our main workforce – we don't have any grad students," Belitsky said. "It is generally earlier than (students) would normally get into a research lab. 
Through the research OhioLINK supports, Belitsky and his students have found the same chemical in your hair that determines its color could soon be used to filter water.
Before you conjure images of wig strainers, it is important to know that melanin can be synthesized in the laboratory. Eumelanin, which is chemically similar to charcoal, binds easily to other substances, including heavy metals such as lead.
Because Belitsky can manufacture eumelanin in the lab, he can tailor its composition to bind to select compounds over others. This allows a degree of control that other water purifiers, such as charcoal, may not have. While you won't see melanin replacing water filters any time soon, it could offer a cost-effective filtration option for areas of the world that normally don't have access to clean water.
"I don't expect this to compete with first-world water purification technologies," Belitsky said. "But I like to say that wherever there are people, there's hair. This could be particularly useful in a low-resource environment."