Ohio's College Credit Plus program allows Ohio public school students in grades 7-12 who qualify for college admission to earn secondary and college credit at the same time by taking college courses. Once again this year at the Ohio Educational Technology Conference, OhioLINK sponsored a presentation overview of library resources available to College Credit Plus faculty, teachers and students with INFOhio's Erica Clay. 
To best provide access to this information, there is a video of the 2015 presentation on Vimeo where Clay describes tools and strategies for students embarking on research for College Credit Plus courses: https://vimeo.com/120163350.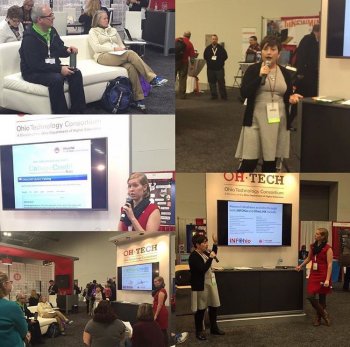 The information in this presentation can also be found by visiting College Credit Plus Library Resources: Access the Right Tools for You. Through this libguide, students, parents, faculty, teachers and librarians can find more information on the wide range of resources available for College Credit Plus, including direct links for both INFOhio and OhioLINK resources.
The below flier and PowerPoint presentation also provides an overview of the resources available and is a good starting place for faculty and teachers working with College Credit Plus students.
"OhioLINK's enormously rich shared collection is available to students, faculty and staff of its 120 members – whether public universities like University of Cincinnati, private research universities like the University of Dayton, two year colleges like Columbus State or Marion Tech, or private colleges like Hiram or Denison," wrote Executive Director Gwen Evans in a 2015 blog post on OhioLINK resources and the College Credit Plus program. "In College Credit Plus programs, secondary school students have the same access to OhioLINK resources as any other college student, both on-campus and off."  Read the full post on the OH-TECH blog by clicking here.
For more information on the College Credit Plus program, please see https://www.ohiohighered.org/ccp.