Congratulations to Kent State University School of Library and Information Science, Kent State University Tuscarawas Academic Learning Commons and The Ohio State University Libraries Journal Publishing for their mentions in the 2015 New Media Consortium (NMC) Horizon Report > 2015 Library Edition. The features include information about increased access to research content, the future roles and skills of librarians and the implications of makerspace inclusion in the library. You can check out the report here: http://cdn.nmc.org/media/2015-nmc-horizon-report-library-EN.pdf (mentions on pages 9, 29 & 36).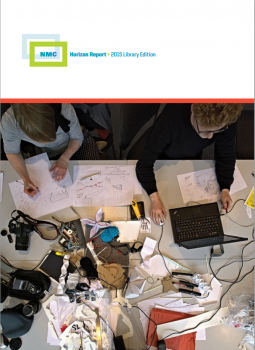 The NMC Horizon Report > 2015 Library Edition focuses solely on emerging trends and technology in the library sciences. An international expert panel determined the topics of study and attempted to focus on areas of interest and impact: current trends and potential trends in the next five years. The research focused on short-term, mid-term and long-term impact of several key trends; watch a virtual symposium of the content in the report here: https://www.youtube.com/watch?v=chZ6kjfyq6w&feature=youtu.be. According to NMC the report was a three-month collaborative effort of the 2015 NMC Horizon Project Library Expert Panel, made up of members from library management, education, technology, and various other fields. The group created a project wiki where you can see the project timeline and additional resources.
The New Media Consortium Horizon Project has been focusing on researching global emerging technologies and driving innovation for 13 years and has produced over 50 report editions of various research topics to date. The Horizon Project is not only conducting global research, but is also impacting global technology decisions for future innovations. The reports are downloaded in 200 countries, and NMC recently surpassed 4 million annual global downloads.
Inclusion in the report not only increases awareness of current projects and initiatives, but it also shows that we are on the cutting edge of innovation in Ohio. The OhioLINK member library mentions are included as examples of what the future may hold for library sciences on a global scale. Congratulations again to KSU and OSU on making an impact and seeking innovative ways to serve students, faculty, staff and researchers.
Additional Resources: NMC.org - The New Media Consortium (NMC) is a community of hundreds of leading universities, colleges, museums, and research centers. The NMC stimulates and furthers the exploration and use of new media and technologies for learning and creative expression.