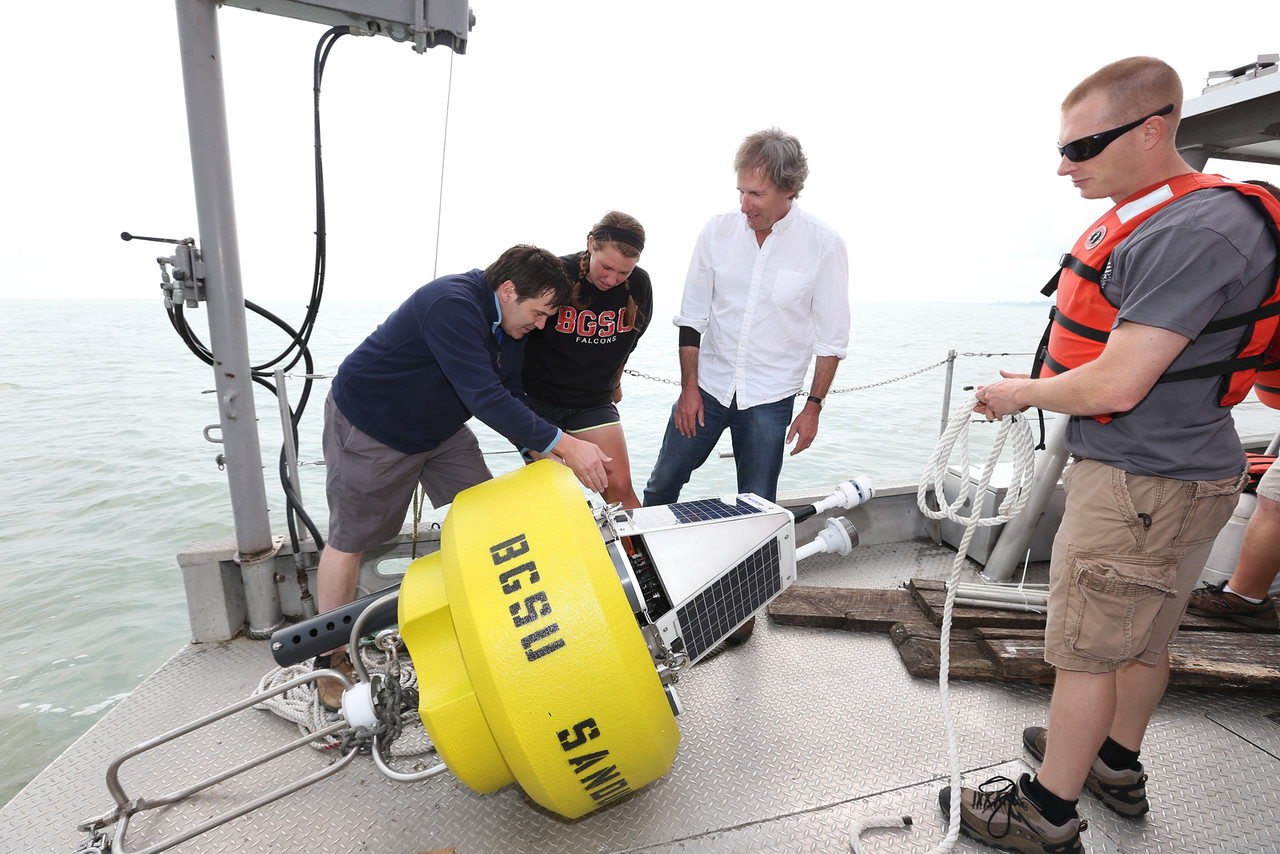 Robert Michael McKay, Ph.D., and George Bullerjahn, Ph.D., had been studying water quality issues in the Great Lakes for more than a decade when the situation in Lake Erie turned dire.
On Aug. 2, 2014, nearly half a million people in Toledo woke up to contaminated drinking water due to toxins released by microscopic cyanobacteria, or blue-green algae, in Lake Erie—Toledo's water supply.
Since then, the biological science professors at Bowling Green State University have been on the front lines of battling the algal bloom in Lake Erie. And among their best weapons are the vast resources of OhioLINK. 
"These events are a global phenomenon," said McKay, Ryan Professor of Biology at BGSU. "We can't always be at conferences meeting people, interacting on telephone or Skype. So for us, we're accessing research articles through OhioLINK daily.
"It's a resource most of us take for granted. You forget about this consortium of schools whose buying power allows you access to essentially anything. There are rarely any materials we don't have access to. I was involved in the OhioLINK 25th Anniversary at the Ohio Statehouse (in November) with scientists and scholars speaking to our legislators, making sure they recognize the importance of this resource. I'm really not sure where we would be without OhioLINK." 
An "algal bloom" search in the OhioLINK Electronic Journal Center turns up more than 36,000 articles, and searching "algal bloom Lake Erie" returns 2,135 articles, some of them written by McKay and Bullerjahn. 
Bullerjahn said OhioLINK's Electronic Thesis and Dissertation center is another key resource.
"It's not only articles, but unpublished dissertations that will lead to publication," said Bullerjahn, Professor of Research Excellence at BGSU. "Our scientific colleagues around the state are mentoring students. They're producing work that may not be in the primary literature yet, but it may be appendices and theses that afford some real details that often get omitted in the primary literature."
McKay and Bullerjahn had been studying the algal bloom phenomenon since around 2000, but their efforts really picked up in 2014 with the Toledo water crisis. Since then, they've focused closely on western Lake Erie and Sandusky Bay. 
"We mobilized immediately in terms of both contributing to the science and the potential threat to our water supplies, but also in terms of outreach and public engagement," McKay said. 
After the water crisis in Toledo, McKay and Bullerjahn brought in scientists from around the world to a symposium held at BGSU to discuss the harmful algal bloom issue, how they track it, and what efforts are available to mitigate and prevent the problem.
The consensus is the Lake Erie algal bloom is the result of phosphorus runoff from farm fertilizers. The contaminated water can cause illness in humans and has killed dogs and other smaller animals. Because of those dangers, algal blooms often wreak millions of dollars of damage to lakeside areas in the form of retail home values, water quality treatment, and the tourism trade, such as charter fishing vessels and vacationing tourists.
According to Bullerjahn, the International Joint Commission, which resolves disputes between boundary waters of the U.S. and Canada, has prescribed a 40 percent annual phosphorus reduction in affected waters as a means to prevent large blooms.
To do that in Lake Erie, groups are working on voluntary participation amongst the farming community to adopt better management practices, including alternative fertilizers and buffer strips that filter nutrients near water sources. They are also considering tax incentives for farmers to adopt better management practices and perhaps even more regulation through the Ohio Environmental Protection Agency. 
Still, while Lake Erie is in better shape now than it was in 2014, it's far from being free of the harmful algae.
"My gut feeling is we're years away," Bullerjahn said. "There's a lot of phosphorus in the system and it isn't just going to flush out; it's going to take time. But we've seen that adoption of appropriate practices has improved other lakes that are quite large. I hope people do have the patience to accept the fact there are approaches that will improve things and that it's going to take years."
###
Written by Ross Bishoff
Established in 1992, the Ohio Library and Information Network (OhioLINK) is Ohio's statewide academic library consortium and serves more than 600,000 end users. A member of the Ohio Technology Consortium of the Ohio Department of Higher Education, OhioLINK provides a competitive advantage for Ohio's higher education community by cooperatively and cost-effectively acquiring, providing access to, and preserving an expanding array of print and digital resources, and by centrally hosting digital content. Together, OhioLINK and its member libraries provide users access to nearly 50 million books and other library materials, more than 100 electronic research databases, more than 81,000 e-books, thousands of images and videos, and millions of electronic journal articles.