John Brogan is working to find, and blur, the border between art and science. A senior at Case Western Reserve University, Brogan has already become a seasoned traveler, authored two books and partnered with the Cleveland Metroparks Zoo for a research project. Brogan is studying cognitive science, which he describes as a blend of psychology and philosophy, taken within the lens of a hard science.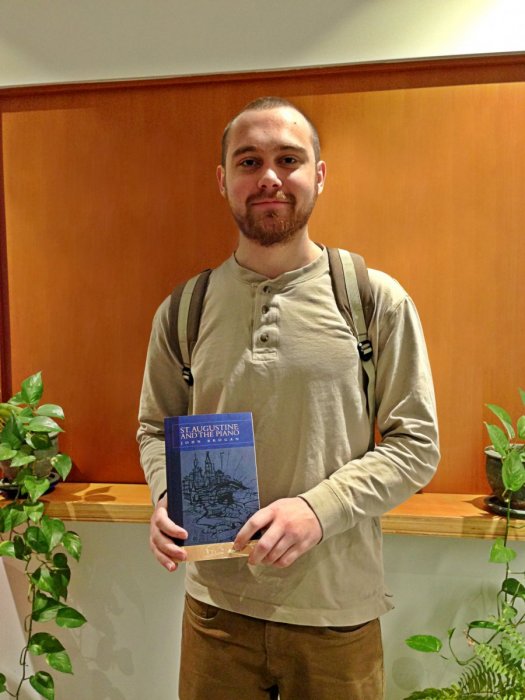 Brogan takes advantage of OhioLINK's database access, frequently using PsycNET and PsycINFO to inform both his research and his books. By infusing cognitive science into the structure of his new book, he challenges readers to play with their own interpretations of the material as he exercises the mind with a blend of prose and poetry, along with illustrations.
"From my perspective, it's how we associate meaning to everything and anything," Brogan said. "A lot of it has to do with the study of language."
Brogan is intimately familiar with language; his second book was released this month. St. Augustine and the Piano is the story of a boy traveling his way across the country. While fictional, the book mirrors some of Brogan's own travels, inspired by a fondness for Jack Kerouac. In fact, requesting a Kerouac book from another member library was one of Brogan's first introductions to OhioLINK.
"I'm really trying to extend and play with these connections that we make and these meanings that we draw toward different things," Brogan said.
This is a theme Brogan explores in his research regarding the use of metaphorical language in public discourse about conservation. Some examples of this include phrases that describe the natural world we live in, such as climate change, carbon footprint and carbon market. Each of these phrases could affect our frame of view on conservation issues and whether or not we take action to make a decision. Brogan will soon begin a research project to apply these ideas with the Cleveland Metroparks Zoo's conservation efforts.
While on campus, Brogan said he is a frequent visitor of CWRU's Kelvin Smith Library, as he is not a fan of carrying around a laptop. While there, he will often dive into books by like-minded naturalists such as John Muir and Robert Frost. Conveniently, these books allow Brogan to mix business and pleasure.
"It's one of the things I love about cognitive science," Brogan said. "I can read a couple of poems by Robert Frost and take that information and bring it to how we should talk about nature metaphorically to engage the public in conservation initiatives."