Josh Javor, an undergraduate student in Ohio State's Department of Mechanical and Aerospace Engineering, received a 2015 Pelotonia Undergraduate Fellowship in May. Javor is in the final stages of designing a microscope that employs a detection method currently used in material science engineering to help oncologic surgeons quickly identify tumor margins in the operating room.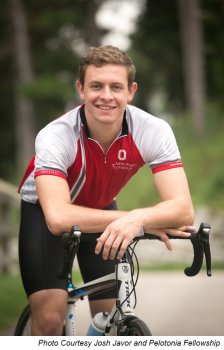 "Our job is to create a device that will be non-invasive and will tell [surgeons] in real time what the tumor margin is on a 3D stage in the operating room," Javor said.
While the engineering side of his work may come naturally, he has used resources provided through OhioLINK throughout his undergraduate career to stay abreast of the latest developments in oncology and medicine. Javor mentioned that a large percentage of his time is spent learning new things and "developing new curiosities." OhioLINK's vast research journal collection allows him to deepen his knowledge in the medical field.
"For researchers, it's an incredibly powerful tool," Javor said. "If I'm looking into a field where I don't know the terminology yet, I love that I can get on OhioLINK and search everything by subject. Sometimes I don't even know what I want to know yet because it's out there, and I haven't read it."
Access to journals through sites such as the Electronic Journal Center (EJC) and publishers' sites like ScienceDirect is totally without cost for students at OhioLINK-member universities. These resources are paid for by a combination of member and state funding. Students also have access to dissertations and theses from previous graduate students in 30 Ohio academic programs in the OhioLINK ETD. For Javor, a fifth-year senior, these additional resources helped him make the decision to pursue an advanced degree that he had not considered previously. He will be taking the GRE – the grueling 4½ -hour graduate-level admissions test – the day before this year's 180-mile Pelotonia bike ride.
"I did this on purpose because I know I'll have a lot of stress to release, so I'm doing parallel training," quipped Javor, referring to physical training for the ride and studying for the exam.
Javor was one of 7,270 riders last year who participated in Pelotonia, a grassroots bike tour that has raised over $92 million for cancer research since 2008. Some of this money is allocated toward fellowships for students who have the potential to become independent cancer researchers.
If last year's ride was inspiration for Javor to expand his research into oncology, this year's should catapult him further as he moves into the second phase of the fellowship proposal. Javor soon will move to testing the microscope's imaging accuracy with tissue measurements. If the images do not match up with pathology, he will move back to the design stage. Though there may be setbacks, Javor said the support he receives from Pelotonia, Ohio State and OhioLINK motivates him to persevere.
"When people hear of the research we're doing, and when they see the spark in our eyes and the quantifiable differences that have been made by Pelotonia and this university, I think it really inspires hope," Javor said. "I've found that support to be incredible."
A year ago, after riding 100 miles the day before, Josh found himself on an old, borrowed bicycle, shoulder-to-shoulder with fellow cyclists, climbing a seemingly endless hill in a dense fog in August. They had begun their 80-mile trek that morning by passing under a green banner that bore the words "Together We Are Unstoppable."  The peloton would climb uphill for the next 30 miles, all in the name of ending cancer. Although at the time, Javor didn't know when the hill would end, what he did know was the general direction to go, and he was surrounded by other riders facing the same challenge. That the metaphor could be applied to research was not lost on him.
"When my project started, we didn't know what this was going to be applied to; I still have tons of doubt," Javor said. "All we can do is keep moving forward and trying our best. And then something beautiful comes out of it."
At the top of last year's 30-mile hill, the sun broke through the dense fog, and Javor savored the beautiful weather on the downhill ride.