Christine Raber, Ph.D., can truly say her use of OhioLINK resources has real-life application. A professor of Shawnee State University's Master of Occupational Therapy program, Raber specializes in the rehabilitation of dementia patients. More specifically, she researches strategies and opportunities that can motivate persons with dementia to use their abilities to stay connected and engaged in life. She has presented her research at international forums in the UK, Sweden, and Japan. Raber also supervises service-learning experiences in nursing homes and assisted living facilities. With such a busy lifestyle, easy access to research resources from anywhere is critical. 
"I utilize OhioLINK resources all the time – at home, in my office and in other venues here and abroad," Raber said.
Raber's unique application of the Model of Human Occupation as an intervention method for dementia involves understanding a person's volition, habituation and performance capacity, as well as their environment, to support quality of life. Access to an array of search engines; the boon of statewide resource sharing and the ability to make multiple renewals are benefits of OhioLINK that continue to facilitate Raber's mission to improve the lives of those living with dementia.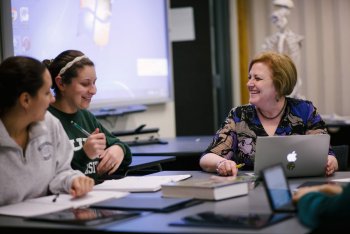 However, having the resources is only part of the equation; having the element of human support is equally powerful for Raber. OhioLINK supports Raber's teaching as well as her research. She has been a faculty mentor for ten graduate student research projects, four of which received student research grants, and she strives to foster positive, challenging mentoring experiences for her students. Raber describes the research discovery process as a puzzle each student pieces together.
"How the student goes about the process of research – the research databases they use, their search terms, knowing how to read the results list – all play a crucial role in their ability to be good research consumers," Raber said.
She pushes her students to find knowledge gaps in order to develop research topics that address new areas of inquiry.
"This necessitates the students' 'owning the literature' within their area of investigation," Raber said. "For that level of inquiry, OhioLINK is essential and incomparable."