Hali Finfrock pulled on a thread and unraveled a wealth of information recently that gave her a whole new perspective on numbers and her major.    
The Ohio State University at Lima sophomore math major is a student worker for the campus library. During a discussion with Calvin Cleary, OSU-Lima's reference librarian, the two noticed a picture that showed a number five that looked like a hand-written numeral four.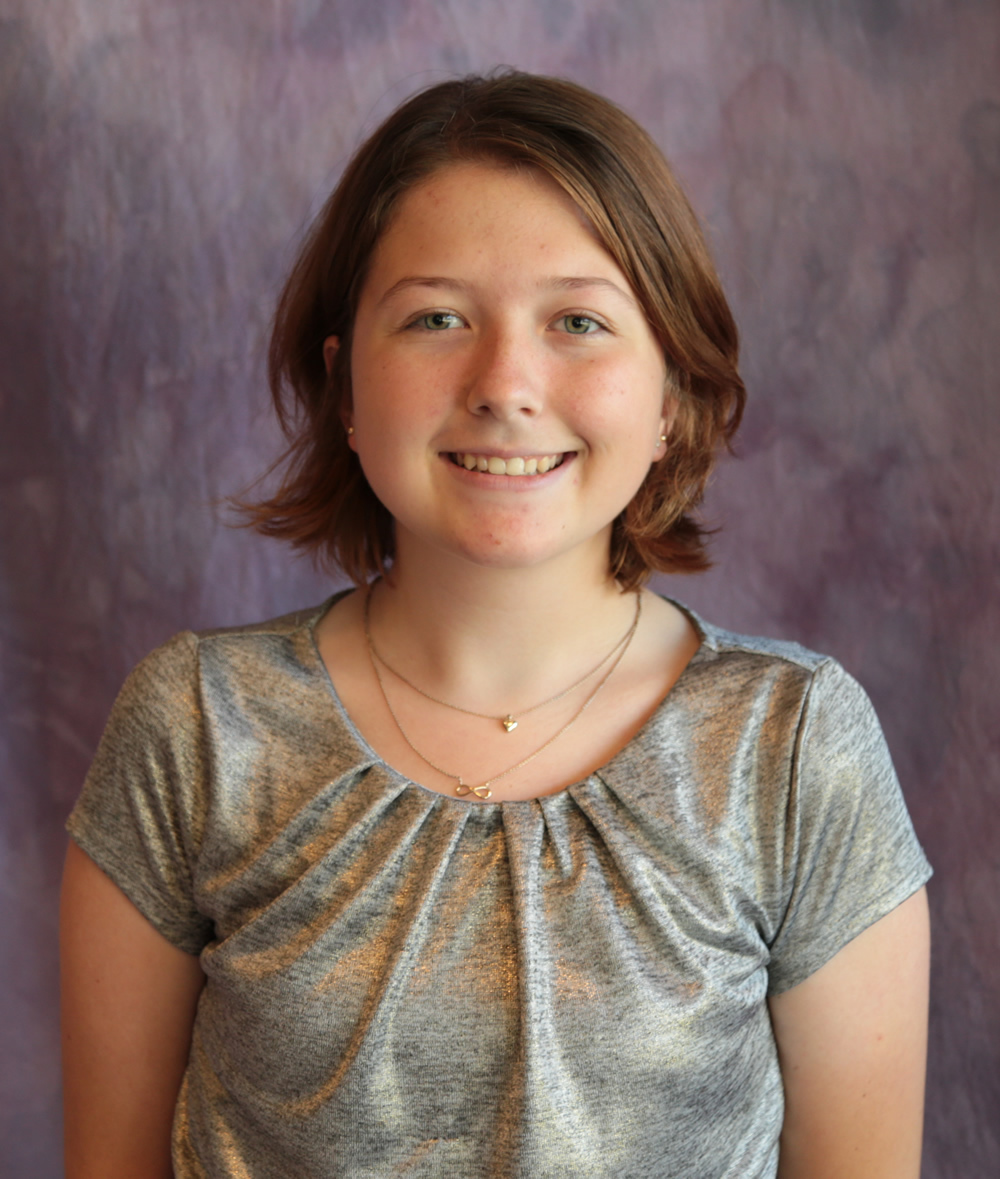 "That sparked an interest," Finfrock said, "and (OSU-Lima Library Director) Tina Schneider jokingly said I should research it. So I actually did it."
Between work and summer classes, Finfrock used OhioLINK for research into how numbers got their shapes and how our numbers system evolved over time.
"A couple weeks later, she showed up and said, 'I'm ready,'" Schneider said. "I was like, ready for what? It turned out she had gone through OhioLINK and gotten all these books. She had a stack of books filled with Post-its with different examples and styles from different areas of Europe from the medieval era that showed how numbers developed."
Mathematicians in India invented the Hindu-Arabic numerals, later simply called Arabic numerals in Europe. Some of the theories as to why certain numbers look the way they do have changed throughout the years. For instance, the numbers four and five look different: Five looked similar to our current four. The number seven resembled an upside down V. And the zero looked like our degree symbol.
"One of the theories is that in Rome they used counting boards to find out how much people had to pay in taxes," Finfrock said. "The numbers were written on the counting board so when you look at it different ways, the numbers came up different. So if someone doesn't know or understand what the numbers are, because these numbers were foreign to the Romans, they may have thought they were writing it correctly because that's the only way that had seen the number. So, what started out looking like a 4 then started to shape to our 5."
After the walk through the evolution of numbers, Schneider contacted Eric Johnson, associate professor and curator of rare books and manuscripts at the Ohio State University Libraries. Finfrock met with Johnson to look over some fascinating documents. One in particular was a single page fragment from a late 15th century or early 16th century large lectern-style Bible kept in a monastery in the Netherlands.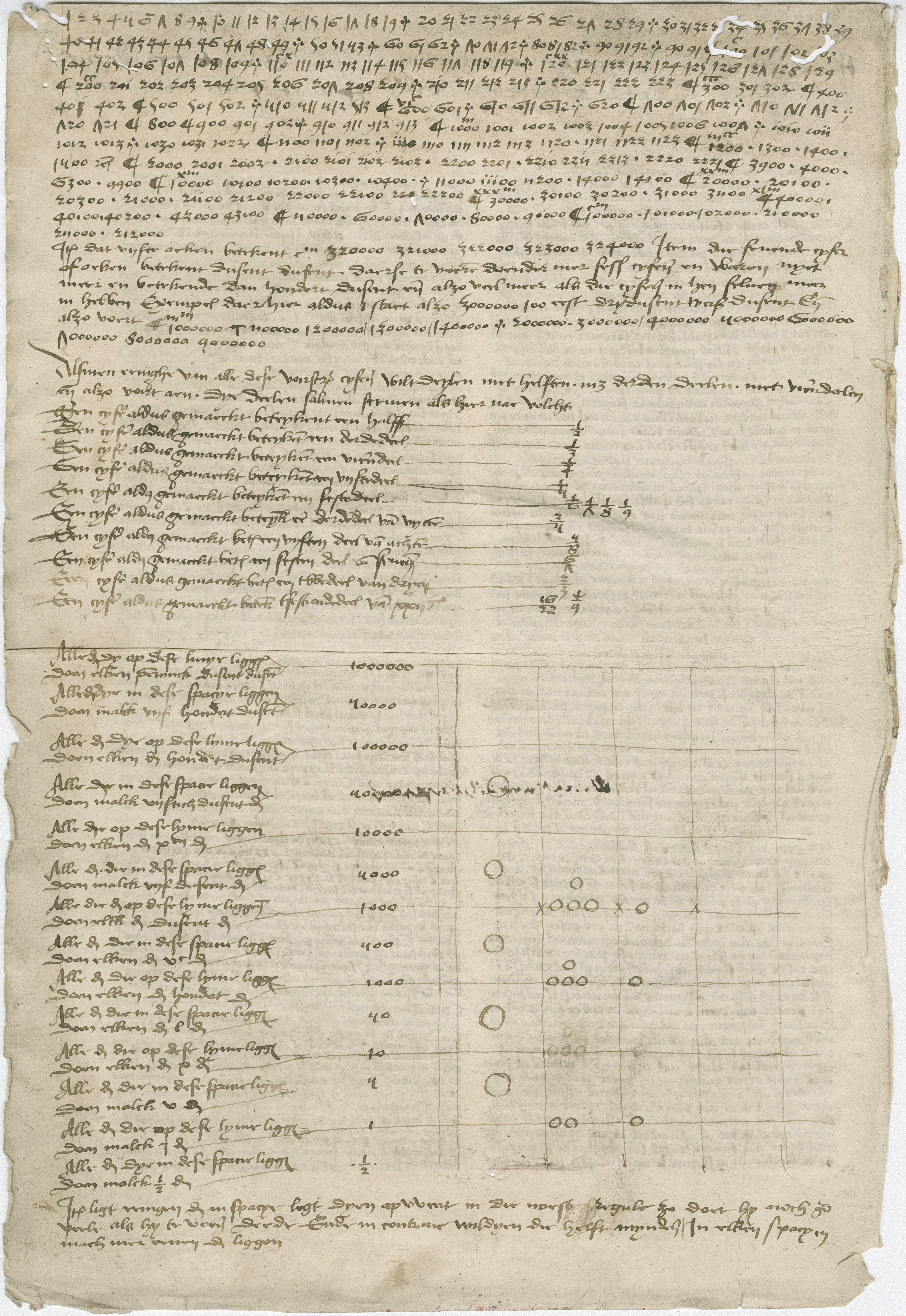 "The treatise on one side is a legal thing but on the other side is a treatise in late medieval Dutch on the proper use of Arabic numerals," Johnson said. "It's an interesting thing, probably the oldest piece we have that deals with numbers and their history. 
"The kind of things it suggests to us is that maybe the monks during that period were starting to do their accounts in Arabic numerals, maybe they're thinking of commerce and donations and tithing and money in new ways. That's all conjecture but it's the kind of questions we can ask."
Finfrock said seeing the handwritten document provided a deeper level of understanding her project.
"By the end, we were looking at charts and admiring how different each number was from how it used to be," she said. "It was really a cool experience."
And it's an experience that gives Finfrock, who wants to be a math professor, another angle from which to view her mathematics studies.
"Without this evolution of numbers, I wouldn't have a major," she said. "The difference between the place value system and Roman numerals is, you can count to infinitely large numbers. That allowed for a much more mathematical advantage. Where would I be if I can't think theoretically? I enjoy outside-the-everyday-life problem solving."
Johnson said it's often an eye-opening experience to see how a discipline has evolved.
"For her it's going to be very illuminating to think about a time period where the attempt to do complex math would have been made so much more difficult by, say, a Roman numeral system that didn't have a way to express fractions and larger, more complex numbers."
While Finfrock's initial curiosity got the ball rolling on this research, OhioLINK had a big role in delivering the necessary resources.
"The Lima campus library had one book on the evolution of numbers, but it guided me toward other books," she said. "OhioLINK had a larger collection I was able to work with that led to more information, more charts, more graphs, more places to confirm where these numbers originated from."
Students at regional campuses like OSU-Lima benefit greatly from what OhioLINK offers, according to Schneider. There are 27 regional campuses of public universities that participate in OhioLINK either as members or as part of a system. Branches of two-year and independent schools are also members of OhioLINK, bringing that number of regional campuses up to 60.
"She wouldn't have been able to do this without OhioLINK," Schneider said. "Our goal here is to have a little bit on the topics students are researching, something to get them started. But we're just not big enough to have everything they need, so we must have OhioLINK because these students absolutely rely on other libraries to provide more materials."
###
Written by Ross Bishoff
Established in 1992, the Ohio Library and Information Network (OhioLINK) is Ohio's statewide academic library consortium and serves more than 600,000 end users. A member of the Ohio Technology Consortium of the Ohio Department of Higher Education, OhioLINK provides a competitive advantage for Ohio's higher education community by cooperatively and cost-effectively acquiring, providing access to and preserving an expanding array of print and digital resources, and by centrally hosting digital content. Together, OhioLINK and its member libraries provide users access to nearly 50 million books and other library materials, more than 100 electronic research databases, more than 81,000 e-books, thousands of images and videos, and millions of electronic journal articles. www.ohiolink.edu.