Undeniably, researchers can appreciate OhioLINK's vast stockpile of literature from around the world, but perhaps none so much as Xavier University's Suparna Chatterjee, an assistant professor who seeks to understand the unequal geographies of globalization. Her work culminates information from economics, history, business and anthropology, to name a few, to study how ideas spread and impact the lives of people across the globe.
"I like to see how concepts and ideas travel, what is added and lost in its translation across social and spatial divides," Chatterjee said.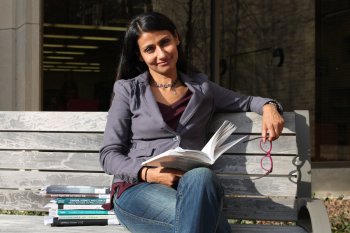 A native of India, Chatterjee brings to the classroom an awareness of translating and mediating unfamiliar and distant concepts across cultures. This, she said, maintains an underlying presence in her teaching and research. The courses she teaches at Xavier enable her to bring distant worlds into the classroom where students have the opportunity to make unexpected and unforeseen connections between their lives and those that originally seemed distant and unfamiliar.
As these global economic and social paradigms rapidly morph and change, Chatterjee relies on the resources provided by OhioLINK for up-to-date databases and literature to support both her research and her work in the classroom.
"I think of OhioLINK as one of my lifelines," she said. "I would not know how to pursue my research without it."
Because her research so heavily involves the actions of others, it is imperative for Chatterjee to know what scholars in different countries are finding. This includes philosophical writings on globalization, as well as statistics and hard facts. Through OhioLINK, she has instant access to more than 56,000 theses and dissertations in the Electronic Theses & Dissertations Center as well as countless books, journals and research databases.
"Knowing that I have access to OhioLINK makes me more secure about my scholarship," Chatterjee said. "I can't imagine my life without OhioLINK. It's like having a security blanket."
Chatterjee hopes her research is able to speak to the complexities and contradictions of the globalizing world and theorize anew about the contemporary world. By analyzing issues of class, gender, and race, she will continue to highlight various ways in which global social and economic forces impinge on the everyday lives of people in geographically distant but economically connected places. To do so, she said, she will continue to read and learn.
"For years to come, the library and its resources will remain central to my journey as a teacher as well as a researcher," Chatterjee said.