COLUMBUS, Ohio (

Dec 8, 2022

) —
In the 1980s, university libraries in Ohio were running out of space. After a number of individual libraries asked for state funding to build new facilities to accommodate their ever-growing collections of printed materials, the Board of Regents instead proposed a study that prompted a fundamental shift in thinking about academic libraries as collective resources.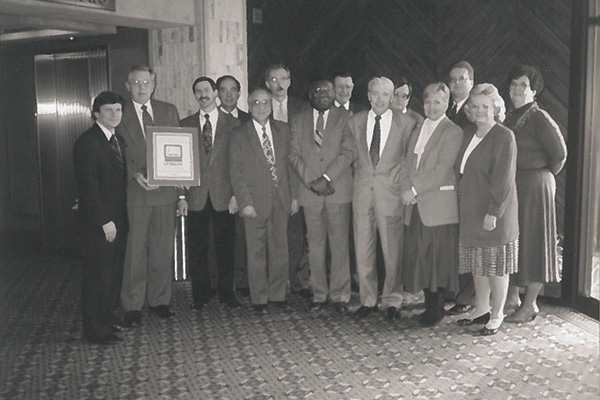 This led to the creation of the Ohio Library and Information Network (OhioLINK), which launched in 1992 as a statewide academic library consortium. Today OhioLINK maintains a shared electronic catalog of electronic books, journals, databases, and streaming media for its 117 libraries within 88 institutions and the State Library of Ohio, and manages the statewide lending of books and other printed materials among member and public libraries.
OhioLINK negotiates contracts for electronic resources at a fraction of the cost that would be required if these materials had to be purchased by individual institutions. The consortium also manages the information technology infrastructure necessary for hundreds of thousands of students, faculty, and members of the general public to access this invaluable collection of electronic resources critical for education and research.
Over its 30-year history, the consortium has been at the cutting edge of the shift to electronic library resources and has grown in size and scope, adding shared services and programs for its members while also staying true to its core mission.
"OhioLINK has remained focused on offering equitable, cost-effective access to high-caliber scholarly resources to support teaching, learning, and research in Ohio," said Amy Pawlowski, executive director of OhioLINK. "The consortium collaborates with hundreds of librarians across the state, giving members a voice and stake in decisions made about the management and curation of these critical collections."
Evolution of Electronic Resources
As no peer-to-peer borrowing for a library catalog was on the market in the early 1990s, OhioLINK worked with a software company to develop a product called INN-Reach, which is still used by OhioLINK members through the Central Catalog as well as other consortia across the country.
The Central Catalog allowed users to search for and make requests for printed materials—from anywhere around the state—without the aid of a librarian so that members of the OhioLINK community could easily and efficiently share resources.
Throughout the 1990s, OhioLINK expanded to include Ohio's two-year institutions as well as private colleges. The larger consortium offered more content to users and also experienced greater demand for its services. As a result, OhioLINK had more leverage with vendors to negotiate competitive pricing agreements for electronic resources.
During its first two decades of operation, OhioLINK was far ahead of the curve on the adoption of and libraries' reliance on electronic resources. In the late 1990s, it launched the Electronic Journal Center, a full-text, searchable database of electronic journal articles that now offers more than 12,000 academic journals from top scholarly publishers, academic societies, and university presses. A few years later, the Electronic Theses and Dissertations Center was developed to provide open access to electronic scholarship and research published by Ohio universities, and today is the only statewide repository of its kind. In the late 2000s, the Electronic Book Center joined the portfolio, offering unlimited access to e-books for OhioLINK users.
The expansion of partnerships also is a key theme of this era of OhioLINK's history. New collaborations with Libraries Connect Ohio and SearchOhio offered K-12 school libraries and public libraries cost-effective access to additional library resources for all Ohioans. In 2012 OhioLINK became part of the Ohio Technology Consortium (OH-TECH), the technology and information division of the Ohio Department of Higher Education. This move gave OhioLINK greater access to shared technical expertise that could help advance its electronic resources.
In its third decade of operation, OhioLINK tackled a new set of challenges while maintaining its core resources and services for its community of library professionals. As staffing levels declined at libraries across the state, OhioLINK assisted by assuming more centralized cataloging of shared resources throughout the system while also improving the chances that library users would be able to more quickly find what they need.
In 2017, OhioLINK joined the Open Education Network and launched its own affordable learning initiative to support the availability and use of no- and low-cost textbooks. Efforts have included negotiating statewide inclusive access agreements for digital textbooks and funding faculty training on adoption of Open Education Resources—all to help Ohio college students save money on textbooks.
Because OhioLINK's member libraries already had access to its vast collection of digital resources, they were able to quickly pivot when the coronavirus pandemic forced closure of campus buildings. Although the consortium had to suspend print lending in the early stages of the pandemic, it also attracted state funding to boost digital teaching resources for hybrid and online classes—many of which had never been taught virtually before.
"Over the last 30 years, OhioLINK has strategically built an impressive and unique portfolio of resources and services to support the state's research and education missions," Pawlowski said. "Year after year, the consortium has been responsive to the changing needs and challenges of the higher education landscape and has advanced innovative solutions for the greater good."
Strategic Plan and New Shared System
In the late 2010s, members of the OhioLINK consortium began to discuss the need for a new integrated library system (ILS) for its members. An ILS serves as the shared backbone of library operations for the consortium's members, who use it to manage circulation, acquisitions, and cataloging, as well as to generate the underlying data that drives library business decisions and reporting.
An OhioLINK working group examined and articulated what a next-generation ILS should provide. The group published a white paper in 2020 that outlined the market's need for user-centered technology that would enable deeper collaboration for sharing print and electronic library resources, offer better campus integration to support teaching and learning, and facilitate business intelligence for data analysis.
In June 2022, OhioLINK announced a major step in realizing this vision: The Ohio Department of Higher Education awarded funding to replace the existing ILS system. OhioLINK would leverage cooperative purchasing power and shared technical expertise to cover the cost of the software and the migration process for its member institutions.
The new ILS will improve the security and stability of the software on which libraries rely for day-to-day operations, provide functional improvements that reflect the tremendous shift to online electronic resources, and support libraries' expanded roles in teaching and learning.
During summer 2022, OhioLINK completed the information gathering phase of its ILS Request for Proposals (RFP) process. This included talking with other consortia that have recently gone through the process, reviewing similar ILS RFPs, and soliciting feedback from a range of policy teams and directors to determine requirements for the RFP document.
As the ILS project was launching, OhioLINK also was finalizing a new strategic planning process that will guide the statewide academic library consortium's work with members through the next three to five years. The Strategic Framework, based on feedback gathered from OhioLINK members, positions the organization to support its libraries as they navigate the changing post-pandemic higher education landscape.
The Framework's five Strategic Directions focus on what members need most from OhioLINK: Advancing Research, Learning, and Scholarship; Coordinating Shared Solutions; Planning and Managing Resources Effectively; Engaging Communities; and Developing Strong Value Propositions.
In addition to the ILS project and strategic planning process, OhioLINK recently increased its efforts to support open access. As the scholarly publishing industry moved toward a more open infrastructure for journals, OhioLINK negotiated three cost-neutral, open-access deals. These agreements not only add access to more journal titles for all Electronic Journal Center subscribers, but offer authors the option to publish their research without paywall barriers or any article processing charges.
The Value of OhioLINK  
Over the last 30 years, OhioLINK has established itself as an integral element of the State of Ohio's efforts to support education and research. Considered one of the leading academic library consortia in the United States, OhioLINK has remained committed to its core principles of providing cost-effective, equitable access to scholarly resources; offering a strong return on investment for state funds; staying on the cutting edge of technology innovations to best serve users; and engaging a wide range of library staff in discussions and decisions about the consortium's strategy, policies, and execution of initiatives.
"OhioLINK is a true asset to the State of Ohio," said Charles See, vice chancellor of strategic partnerships and education technology at the Ohio Department of Higher Education. "With its long and successful track record, as well as its solid strategic plan for the future, OhioLINK is well positioned to take on the challenges of providing cost-effective and efficient scholarly resources for higher education in Ohio."
Metrics on the use and cost of OhioLINK's resources demonstrate the value of the consortium to the State of Ohio. Today OhioLINK serves more than 800,000 college students, 48,000 faculty and researchers and 50,000 state employees. On average, students, faculty, and staff interact with OhioLINK resources 1.1 times every second. OhioLINK's content purchasing strategies keep the cost of resources low for its members. In 2021, OhioLINK negotiations provided library resources at a 97% discount on publishers' list prices. Negotiating with vendors means OhioLINK is also able to keep annual price increases far below market rates, which compound over time.
"OhioLINK has helped Ohio build and strengthen a world-class higher education system," said Randy Gardner, chancellor of the Ohio Department of Higher Education. "With the consortium's resources, our colleges and universities can support student education, advance workforce development, and stimulate faculty research and innovation. The State of Ohio receives a tremendous return on investment from OhioLINK."
About OhioLINK:
Established in 1992, the Ohio Library and Information Network (OhioLINK) is Ohio's statewide academic library consortium, serving 88 institutions plus the State Library of Ohio. Delivering both IT infrastructure and content negotiation, OhioLINK provides students, researchers, faculty, and staff with access to valuable digital research collections at a fraction of the cost if those collections were purchased by individual institutions. OhioLINK also connects library services, print and digital collections among its member institutions and manages collaborative services aimed at reducing students' cost of higher education in Ohio, including eTutoring and Affordable Learning. A member of the Ohio Technology Consortium of the Ohio Department of Higher Education, OhioLINK creates a competitive advantage for its member institutions and supports student and researcher success across Ohio. Learn more at ohiolink.edu.