Christiana Congelio joined the OhioLINK team in October as coordinator, marketing and member services. Before starting at OhioLINK, Christiana worked in public libraries as a librarian with children and teens. She was originally drawn to the job because she has always enjoyed libraries and helping others.
Christiana recently sat down to talk about her job at OhioLINK, her all-time favorite book, her childhood in Germany and the vintage motorcycle scooter that she often rides to the OhioLINK office each day.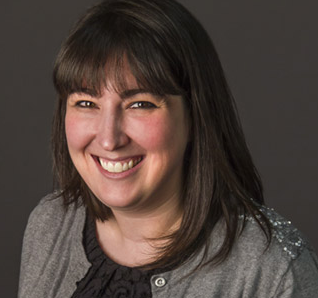 Where did you grow up?
I grew up just outside of Columbus in Canal Winchester. I went to Otterbein for my bachelor's degree, and then for grad school, when I decided to get my Master of Library Science degree, Kent State had a Columbus program. I was across the parking lot, actually, in Mount Hall. It was before they moved; now the whole program is at the state library.
In what subjects did you receive your degrees?
My bachelor's degree is in English literature and I had a minor in American Sign Language. My master's degree is in library and information sciences.
What drew you to library services?
I really like being able to help people and being able to be a point of contact when people don't know where to go next. I like being able to give them some additional steps or provide some information.
What do you enjoy most about your job?
I think it's surprising how willing people are to trust you right away. It's a pleasant surprise. People trust you to be able to help them and are willing to give you all the information you need.
Before I came here, I worked in public libraries with children and later with teens. Working with teens is really what drew me to the marketing part of my OhioLINK position because it's hard to get teens to come to things unless you market events right. This job is a perfect marriage of those two things. I get to do the marketing and social media that I really like, but I also have the direct interaction with different members and I'm able to know what they're doing and able to have that relationship with them, too. The ALAO (Academic Library Association of Ohio) conference happened during my first week at OhioLINK and it was the first time I've worked a booth where everyone just wants to tell you how much they like you and how grateful they are for OhioLINK. It's really fun.
What about OhioLINK interested you?
It's being able to do something that's so important to the whole state of Ohio. Being able to be part of something where we are negotiating great contracts and being able to bring more services to more people — it's fun to be part of something that big, and to work with a group of people that is so hard-working and cares so much about what we're doing.
What do you like to do in your free time?
I am an avid motorcycle scooter rider. It's technically a vintage scooter, and I do all my own mechanical repair. That's been really fun for me as a hobby. I'm also a reader. Since I came here after being a teen librarian, I mostly read a lot of young adult books just because I rediscovered them after reading a bunch of classic and academic works during my undergrad studies.
If could read only one book forever, what would it be?
"The Disreputable History of Frankie Landau-Banks," by E. Lockhart. I don't think many people know about it, but I credit that book with bringing my husband (who has a Ph.D. in geography) and me together because there is a fair amount of geography philosophies in it. It talks about the panopticon, and I didn't know what that was at first but it became my own little OhioLINK research project. It's funny, but it's also got a feminist side to it. It's a cool story.
What is something about yourself that might surprise people?
I was born in Germany. My parents worked for the civilian government, so I was born in Nuremberg, Germany, but I was born on American soil. My parents always made a big deal about that because it meant that I could have been Miss Nuremberg — which I never did — but I could also be president of the United States. I was in Nuremberg only until I was two; we moved to the United States when my sister was born. My parents traveled all over Europe, so there are pictures of me with the Mona Lisa and with African lion cubs … these are experiences you try to have as an adult, and I've already had them, but don't remember them! I want to recreate all these photos. It's a goal to recreate these photos as closely as possible just to have the side-by-side comparison and to have the experiences as an adult.